Teaching Concepts, Not commands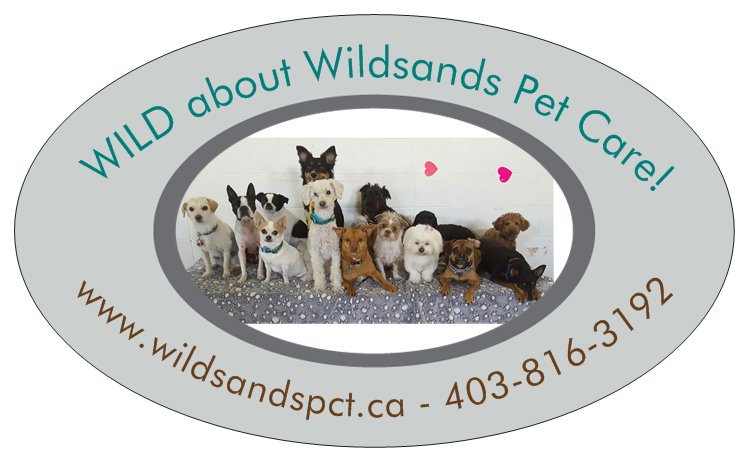 Wildsands Pet care. Where behavior enrichment meets thinking outside the box!
Our current meet up location is 321 61 AVE SW - all pups are transported to my home for daycare! Your dog must be comfortable riding in a kennel. We adhere to all bylaws, noise and safety.
Per Bylaw and safety, the home address can NOT be published. Daycare and boarding

is available for meet up only.
Wildsands has been in operation since 2011. We currently have room for small and medium dogs. All larger dog spots are filled for daycare with a wait list until minimum April 2022.
Be sure to check out and follow us on our
FB page - https://www.facebook.com/wildsandspetcarecalgary
and Instagram @Wildsandspets
Dog Daycare
Boarding for cats, dogs & small animals

DAYCARE
*Please note Due to Covid hours can change * Contact for details

HOURS OF OPERATION:
MONDAY 7:30 AM - 5:30 PM
TUESDAY 7:30 AM - 5:30 PM
WEDNESDAY 7:30 AM - 5:30PM
THURSDAY 7:30 AM - 5:30 PM
FRIDAY 7:30 AM - 5:30 PM
------------------------
Can arrange prior to weekend for playday services
SATURDAY CLOSED
SUNDAY CLOSED
Wildsands Pet care accepts
* Cash * E-Transfer * Money Order
* Cheque
* Please note * Copies of all health record required along with the following. Updated texts or emails to show parasite and vaccines given with date and brand or vet info as needed.
It is our policy that dogs be on a monthly parasite prevention from your vet. No exceptions. All vaccines must be up to date including for kennel cough before daycare and or boarding.
Core vaccines can include the following from your veterinarian DHLPP (Distemper, Hepatitis, Leptospirosis, Parvovirus, Parainfluenza)
OR
DA2PP ( Distemper, Adenovirus type 2 (Hepatitis), Parvovirus, parainfluenza.
Please note Rabies is also required.
An animal can be turned away if showing any signs of illness, including cuts, scrapes or other visible wounds. If you are not sure please have your vet check your pet 5 days prior to boarding or anytime you have a concern before bringing your pet. Please keep your pet at home if they are sneezing, coughing or have diarrhea until your vet has given a clear to return. We can not diagnose guess or treat your pet. *