About us
Be sure to check out and follow us on our
FB page
https://www.facebook.com/wildsandspetcarecalgary

and Instagram @Wildsandspets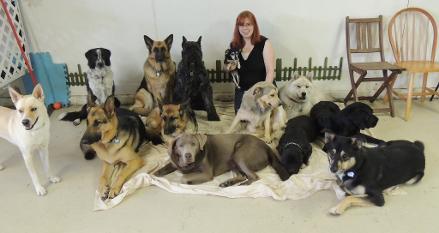 Sandy Braunwarth ~ Owner Wildsands Petcare
Sandy began her journey spending years and countless hours helping her uncle at his reserve, the Braunwarth Zoo, a sanctuary for injured and/or orphaned wildlife. Sandy started her Volunteering path with the local rescue society when she was just 8, apprenticed with many trainers and worked for several years as an adoptions counselor.
Sandy has fostered over 600 animals & cared for thousands including dogs, cats and a variety of other animals over the past 20 + years and eventually would like to open a sanctuary similar to her uncles reserve. For the past several years Sandy Gladly helps vets take on some surrendered or hard to handle dogs when she can, to rehabilitate and find new homes.
Sandy has been training for over 20 years,

In 2003 Sandy accepted a position as a group class instructor though ABTA. A few years later she was asked to be a mentor trainer for ABC and gladly said yes. Sandy said her experience as an ABC mentor trainer has been tremendous, having met so many wonderful people and their pets.
Sandy is always learning, competing and titling with her own dogs and loves helping clients with their dogs and
will be pursuing advanced Ethology in the coming year and is excited to gain even more knowledge and understanding.


In 2011, Sandy opened Wildsands Petcare in Calgary, Alberta, Canada. Offering daycare, cat and dog boarding, and training. Training techniques have grown and evolved over the years, spending countless hours upgrading knowledge and perfecting programs. The key is patience, with both pet and person. You have to figure out what works for both parties. Training is mainly done now for daycare dogs.
The daycare playground is where the pups are constantly engaged by staff for games, puzzles, mazes, obstacle courses and more. Socialization goes way beyond dogs playing, and at Wildsands we think it is an important aspect to have the knowledge and skills.
Sandy has completed numerous courses to keep up to date on the latest training and care methods. Is pet 1st aid certified, ABC LVL 2 dog trainer Certified, Pro dog trainer certified and always wants the best for her clients.
Sandy has a desire and passion for understanding of animal welfare, & to provide the best possible care.
Through the years Sandy has persevered through 2 building changes and has had to adapt her business in tough times. Having gone through major life changing surgeries and chemo treatments for ovarian cancer Sandy has become even stronger, more compassionate and grateful of the time she has with such amazing clients.
Life will not always go the way you plan, learn from it, adapt to change. Being flexible, kind and optimistic can help us overcome almost anything.

There is nothing greater in the world than love "